Ledidi is all about enabling researchers to share data and collaborate across national borders. Now, we are taking our first (physical) steps outside Norway, establishing a subsidiary in Leeds, and connecting Ledidi to the UK's finest healthcare and innovation ecosystem.
In March 2022, Ledidi took part in a Nordic and Israeli delegation trip to the United Kingdom. The delegation trip was hosted by Norway Health Tech, the British Embassy and the British Department of International Trade (DIT). The delegation visited London, Birmingham and Leeds, and the program spanned informative talks on understanding the National Health Services (NHS), regulatory requirements, showcasing the different regions' strengths, and provided useful information about doing business in and with the UK.
We learned a lot about the market opportunity in the UK, which pushed the UK to the top of Ledidi's strategic agenda. Not only is the UK a large and interesting market, but it is also one of the leading nations in health research, with longstanding scientific traditions, and a solid contributor to international research collaborations. In that way, the UK is a good first step for global expansion. — Einar Martin Aandahl, CEO
During the spring, Ledidi's activities in the UK grew significantly. The NHS actively engages innovative companies and technologies to drive meaningful change to their health and care systems with a wide array of local and national programs and support organisations. In order to be on top of all the opportunities that emerge, we decided to establish a base with a physical presence in England.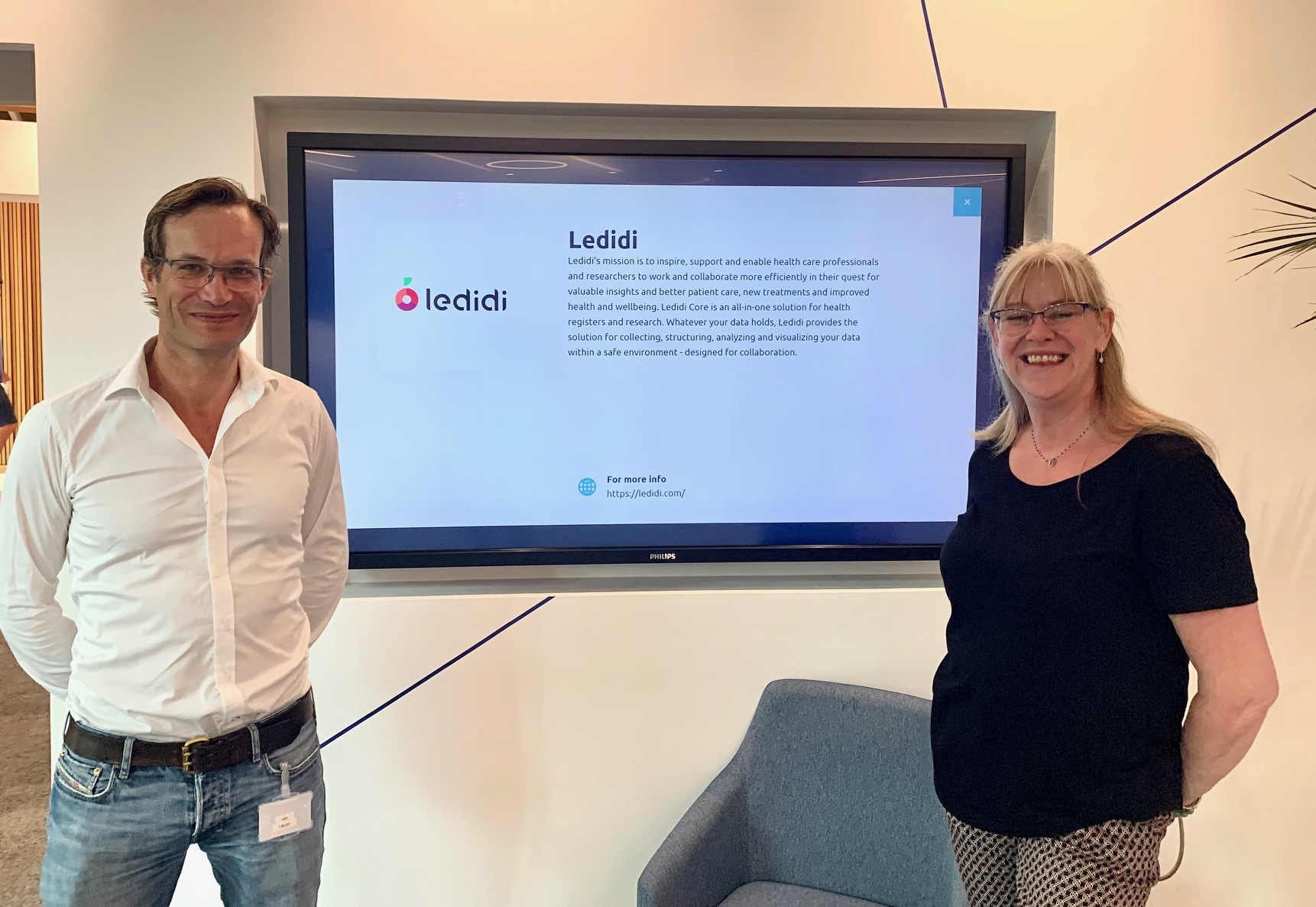 Finding a home in Leeds
Over the past few months, we have been working closely with the British Embassy, DIT, several Academic Health Science Networks, different city regions' enterprise partnerships, recruiters and other organisations to get advice and benchmark data on different metrics and considerations that are relevant for our market expansion.
Having considered multiple regions, Ledidi found its home in Leeds. Leeds City Region has a population of 5,4 million people and has an impressive footprint in the healthcare and tech sectors. For example, Leeds City Region has 27 NHS organisations, six significant government health headquarters, almost 200 000 people employed within health- and science-related roles, and 22 % of all digital health jobs in the UK are based in the region. Leeds Teaching Hospital Trust (LTHT) is the second largest in the UK and is also building a new flagship hospital that is digital by design. Beyond healthcare, the Leeds region has a thriving digital and academic ecosystem, with more than 50 000 people employed in digital tech, is home to more than 250 tech scale-ups and has the largest concentration of higher education institutions outside of London.

We were particularly impressed by Leeds' strong healthcare and innovation ecosystem. Our positive first impressions have been confirmed time and again as the ecosystem has continued to support us with information, connections and opportunities. The people in Leeds are so friendly and supportive and have helped ensure not just a "soft landing", but what I can only describe as a "warm embrace". — Andreas Landsverk, Director of Partnerships
Becoming part of the community
Ledidi's base of operations will be at Nexus, an innovation hub and coworking space associated with the University of Leeds. Nexus brings together a vibrant community consisting of academics, healthcare, industry and government, as well as flexible office space that allows the company to grow within it. And great coffee.
Ledidi plans to staff the UK subsidiary with commercial, scientific support and customer success functions in order to deliver value for Ledidi's users, as well taking part in collaborative innovation projects with academia, healthcare organisations and other innovative companies. Together, we will anchor Ledidi Core as an efficient solution for leveraging clinical data to gain insights that ultimately improve patient care and health outcomes.


We are really excited to connect and co-create value with British clinicians, researchers and innovators! — Andreas Landsverk, Director of Partnerships
For more information, contact Andreas Landsverk.