Every day, tremendous amounts of data are gathered from patient visits and consultations in hospitals and clinics worldwide. These data are used to treat individual patients and keep track of their history. However, aggregation of the data from a number of patients with e.g. similar disease, risk factor profile or demographic characteristics, can provide invaluable insights and understanding of treatment efficacy and identify factors affecting prognosis and quality of care. The aggregation of high-quality clinical data can also be the foundation for research and development of new therapies and improved understanding of disease mechanisms.

Taken together, systematically monitoring outcomes from the clinic is key to continuous improvements and ensuring our patients the best possible help and care. That is why clinical audit is becoming a prioritised task for healthcare organisations worldwide, including the National Health Services (NHS) in the UK.
Clinical audit of breast cancer practice
Given the potential for improved patient outcomes based on clinical audits, we are very enthusiastic about Pfizer's new initiative supporting healthcare professionals in clinical auditing of their breast cancer practice. Pfizer UK has announceda service donation grant in which receivers will be provided with a "breast clinical audit toolkit", including subscription access to Ledidi Core. All NHS hospitals within the UK treating breast cancer are permitted to apply. By equipping health care professionals with efficient tools for registering and analysing data in real-time from the clinic, Pfizer hopes to stimulate quality improvement in clinical practice. Receivers are encouraged to share their experiences and best practice via local or national publication/congress presentations.
Primary use of health data: The generation and use of data within the context of individual health care aimed to serve direct care needs.

Secondary use of health data: The use of health data generated in a clinical context for secondary purposes such as research, innovation, health system planning, quality control, public health monitoring, policy-making and regulatory activities
Barriers to clinical audits and health registers
Quality improvement in the clinic has been a highlighted topic for several years, but many still struggle with turning theory into practice. One of the challenges is a lack of tools to effectively structure patient data in a manner that makes them available for analysis. Patient records often contain free text, which is not easy to analyse, and the data structure is focused on patients' daily care and treatment - as it should be. Patient data may be localised in different digital solutions in various formats - or even on paper. The data may also have questionable quality and may have been collected in an inconsistent manner. Another challenge is maintaining patients' rights to privacy and confidentiality when their data is made available for secondary use.
Ledidi Core is made to overcome these challenges. It is easy to collect and structure data by punching them directly into the database or through automatic capture from other systems. Ledidi combines functionality for data collection and analysis in the same solution, allowing data to be analysed in real-time without wasting time moving data between software solutions and restructuring them for different analyses. That makes it easy to periodically follow up on key metrics while the data quality, structure and consistency make the data well-suited for research activities down the road.
Furthermore, clinicians must be able to collaborate on shared datasets without exposing the primary patient data in violation of privacy laws and regulations. Ledidi's fine-meshed access control enables data holders to maintain full control of the data within a multi-centre operation. For example, collaborators can be granted access to view and update only their own data, but still run analyses on the full dataset. The data can also be "degranulated" so that individual patients can no longer be identified in the dataset. This allows collaboration across hospitals for comparing practices and to enlarge and enrich the data material, enabling more solid conclusions to be drawn. This is particularly important for rare diseases, where collaboration is needed in order to collect enough data, or for conditions where collecting data from patients with different risk profiles, epidemiological backgrounds or exposure to environmental factors require multicenter collaboration.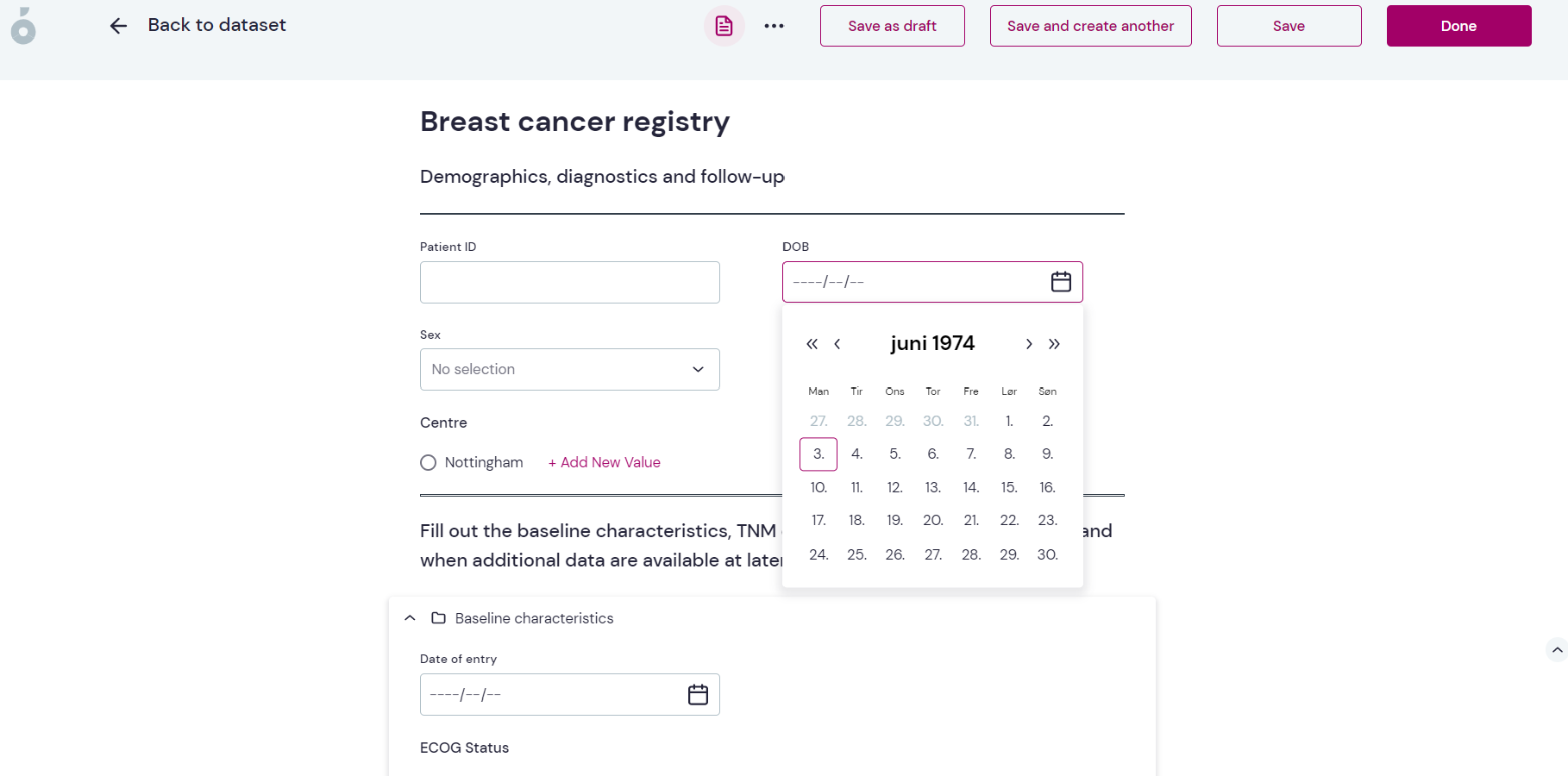 A ready-to-use template
The Breast clinical audit toolkit comes with a predefined template of a breast cancer register, with variables that should be registered about patients with breast cancer to give a good foundation for further analysis. The template is designed by domain experts in collaboration with Pfizer but can be modified by the individual users if needed. The template contains variables related to demographics, type of breast cancer and staging, diagnostic factors, treatments received, blood values and cancer markers, control visits and adverse events. The template comes with ready-made forms designed for efficient data capture in a clinical setting.
By collecting and analysing these data continuously, clinicians will be better equipped to explore the different factors that might affect prognosis and survival in breast cancer patients. We are thrilled that Pfizer is putting Ledidi Core into the hands of healthcare professionals to reach for insights that can improve the treatment, prognosis and care of patients with breast cancer.